Heritage, visit, Castle, Fort en Vendée
Add to my travel notebook
Register your touristic spot en Vendée it's free (in French)
See accommodation nearby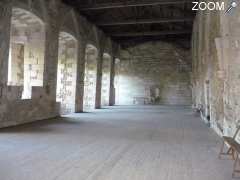 TVORG-11451
Update informations

Disponibilités
Office de tourisme
place de l'Abbaye
85580 Saint-Michel-en-l'Herm (Vendée)

http://www.paysnedelamer.fr/rubrique.php3?id_rubrique=65
This Benedictine abbey was the second monastic foundation in Vendée after Noirmoutier. It has been through many ups and downs : fires and destruction from the Monks' arrival at the VIIth century to their leaving at the Revolution ; but the abbey also had its glorious hours, notably during the XVIIth century when Mazarin became its last abbot.
Nowadays, this abbey is private and one can only visit the Monks' Calefactory (XIIth century), the Chapter House (XIIIth century) and the Refectory (XVIIth century).

Visits
Open in July and August
Visits only on Tuesdays, Thursdays and Fridays
2 visits in the morning : 10.00am, 11.00am
3 visits in the afternoon : 3.00pm, 4.00pm, 5.00pm
Please buy your tickets at the Tourist Office and then, wait for the guide near the entrance.
Register your touristic spot en Vendée it's free (in French)