Heritage, visit, Religious heritage dans la Sarthe
Add to my travel notebook
Register your touristic spot dans la Sarthe it's free (in French)
See accommodation nearby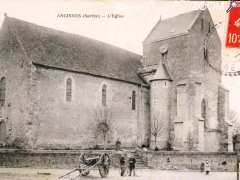 TVORG-4956
Update informations
Disponibilités
Judith GRAHAM
Le Bourg
72610 Ancinnes (Sarthe)

http://alencon61.free.fr
Parts of the church of Saint-Pierre & Saint-Paul date from the XI and XII centuries. A Byzantine altar was uncovered there, together with baths which are thought to have been used for ceremonial ablutions and baptisms.

The ceiling and walls are covered with remarkable frescoes which make it well worth a visit.
The church presbytery dates from 1774 and nowadays houses the Mairie (right); granite columns and a well mark the entrance to the courtyard.
Register your touristic spot dans la Sarthe it's free (in French)