Heritage, visit, Castle, Fort dans la Sarthe
Castles and Monuments

Castles are historic heights-places, they allow to dive back into the universe of the Lords who lived there. Some of these monuments, as fortresses, symbol of power and power, are often marked by the wars of the Middle Ages. Others, as the castles of sailing are much more stylized and testify of the refinement of the Renaissance.
Register your touristic spot dans la Sarthe it's free (in French)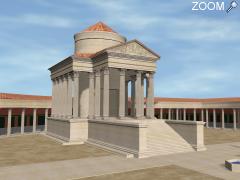 Sanctuaire de Mars Mullo
Rue Ch. Gounod
72700 Allonnes (Sarthe)
Phone : 02 43 80 68 31
- Fax : 02 43 83 42 33
À l'orée du bois de la Forêterie, les sanctuaire gaulois et gallo-romain de la Mars Mullo sont parmi les plus importants du grand Ouest. Seul site archéologique de fouilles programmées de la ... CAPRA
Hôtel de Ville
72800 Aubigné-Racan (Sarthe)
Phone : 02 43 80 68 31
- Fax : 02 43 80 68 31
Le site archéologique D'aubigné Racan, propriété du Conseil Général de la Sarthe, compte parmi les plus beaux site de la Région Pays de la Loire.Entièrement restauré et mis en valeur de puis ...
Register your touristic spot dans la Sarthe it's free (in French)