Gastronomy, Wine cellar, Distillery en Loire-Atlantique
Add to my travel notebook
Register your touristic spot en Loire-Atlantique it's free (in French)
See accommodation nearby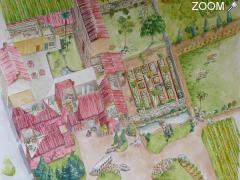 TVORG-5177
Update informations





Disponibilités
Auradon
La Plessisiere
44330 La Chapelle-Heulin (Loire Atlantique)

http://www.coeurdeloiredomaine.com
At twenty minutes of Nantes, Coeur of the Loire proposes to you to leave to discovered the Nantes vineyard, of wines of the Loire and the regional table. Curiosity and user-friendliness are the keys of this single concept of wine tourism.
With more than 60 names according to the Loire of the Coasts of Auvergne to the Vendean Strongholds, the cellar Heart of The Loire and its ligérama propose to you an original visit of all the pallet of the wines ligériens. You also wait make regular with wine growers, auction sales, tastings sets of themes.
Cut, wine making, oenology, discovered wine and of its virtues… throughout the year and of work of the moment, of the interactive workshops make known to you all the secrecies, to include/understand all the stages, of the vine to the wine.
Register your touristic spot en Loire-Atlantique it's free (in French)