Heritage, visit, Religious heritage in Western Loire
Religious Heritage

Abbeys in basilicas by way of chapels or cathedrals, a wide choice of visits and déouvertes offers itself to you. That you are an amateur of the sobriety of the Romanesque art or the magnificence of the Gothic art, you will be enchanted to visit the numerous present buildings on all the French territory.



Register your touristic spot in Western Loire it's free (in French)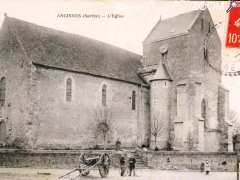 Judith GRAHAM
Le Bourg
72610 Ancinnes (Sarthe)
Parts of the church of Saint-Pierre & Saint-Paul date from the XI and XII centuries. A Byzantine altar was uncovered there, together with baths which are thought to have been used for ceremonial ...
Register your touristic spot in Western Loire it's free (in French)